Skip Navigation
Website Accessibility
5 Reasons why you should own a longarm quilting machine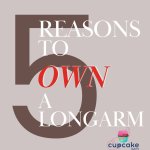 We've all thought about it. Finishing up a quilt top then gleefully running over to our very own longarm machine to load it up and get straight to quilting. But for whatever reason, the longarm of our dreams stays in our heads instead of in our home. No more! We're here to give you the top reasons why you need to make your dreams a reality and bring a longarm home today.
Complete Creative Freedom
Why should your creativity stop when you finish the quilt top? Owning a longarm gives you complete artistic control over your quilt projects. No longer will you have to rely on others to interpret and execute your design ideas. With a longarm in your arsenal, you're able to create quilts that truly reflect your style and creativity.
Tackle the Large Projects with Ease
One of the biggest challenges in using a domestic sewing machine for your quilts is wrangling the quilt and its weight to create your quilting design. This is where a longarm truly shines. Say goodbye to the frustration of struggling with limited workspace and awkward fabric positioning. Longarms are called such because of their extended throat space which means you can roll a bigger quilt underneath with less tugging and pulling.
Save Time and Money
If you make a high volume of quilts, owning a longarm quilting machine can save you both time and money in the long run. You no longer have to wait for months to get your quilt back from the longarmer, and you don't have to pay for their time to quilt it. With a longarm machine at your disposal, you can complete quilts at your own pace, allowing you to tackle more projects and meet even the tightest deadlines, no rush fees involved.
Better Control
Longarms have come a long way in the past few years. Features such as stitch regulators, which ensure precise and consistent stitches, used to be upgrades and came with increased price tags. But no more. Modern longarms come equipped with these and other innovative technologies to help flatten the learning curve and eliminate frustration. Whether you prefer to go for free-motion quilting or follow a pantograph, modern longarms make it easier to achieve polished results.
Turn Your Passion into Profit
If you've thought about turning your quilting passion into a business, a longarm quilting machine is a sure-fire way to do it. With the ability to efficiently quilt larger projects and produce high-quality results, you can take on commissions, offer professional quilting services, or even start your own quilting business.
Owning a longarm quilting machine gives you so many opportunities. With its ability to unleash your creativity, effortlessly handle large projects, save time and money, and achieve precise and consistent results, a longarm machine opens up a world of possibilities in the quilting realm. So why wait? Come to Cupcake Quilts and take home your new favorite machine.