Have you ever considered using the blindstitch foot to sew the perfect edge? Learn the difference between the two sizes of blindstitch feet for the overlocker. A fun application is to use this foot with a flatlock to create a unique looking ladder hem found in ready-to-wear clothing. Learn how to achieve great looking hems, pintucks, and embellishments from heirloom yokes to t-shirts and pillowtops.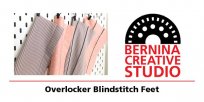 Skill Details:
Beginner - but all levels welcome. If you do not have a Bernina machine but have a blind hemstitch foot for your machine and know how to use your machine, you are welcome into the class.
Materials Included:
No, but upon signing up for the class the instructor will email you a supply list.
Requirements:
Own and know how to use your machine.
Instructor Name:
Gypsy Hargrove
Instructor Bio:
Gypsy has been sewing most of her life, taught by her maternal grandmother, working in community theatre companies making costumes, sewing for friends and family. In the last few years she has taught the guide classes for Bernina machines and enjoys helping customers learn their machines to take them to new levels of sewing!